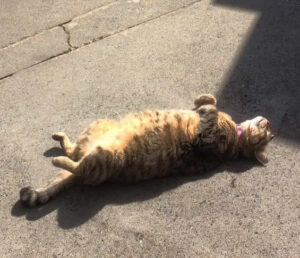 There is a friendly cat named Shadow who lives at the Lamp Lighter Inn on Ocean Avenue. If I were writing a children's book, that is how I would begin the story. And so the story continues. Shadow wandered onto the property over a decade ago and has never left. Her original owners, upon moving out of the area, realized that she loved being at the inn so much that they gifted her to the Lamp Lighter. What a fluffy gift she has been!
At any given time of the day, you may find her around the property sunbathing in the oddest positions or curled up in her basket next to the fire pit. If she likes you, she will find her way onto your lap. If the feelings are mutual, she might follow you back to your room for the evening! Feel free to lovingly entertain her, but be aware that she is an early riser!
A few must-know details about Shadow. She was born with a crooked tail. She loves to be rubbed on her chin and back. However, a cautionary note: her stomach is very sensitive. While we are a dog-friendly establishment, Shadow is not the most dog friendly, but she is extremely tolerant. Children who respectfully love and adore Shadow will always be rewarded with the same affection. We are aware that not everyone may be cat/dog friendly due to allergies, but please be rest assured that our establishment and our housekeeping team do the utmost in making sure all of our common areas and individual rooms are thoroughly cleaned daily. Shadow would have it no other way!
In ancient Egypt, cats were worshiped as Gods. Upon arrival you will see that Shadow has not forgotten this!