Attractions: Carmel, Monterey & Big Sur
Carmel, the Big Sur Coastline and the Monterey Peninsula is a special destination known worldwide for its beautiful scenery, historic landmarks, one-of-a-kind restaurants, art galleries, and auspicious events. Below we have listed our "Top 10" things to do and see while staying at Carmel Lamp Lighter Inn … so that you might enjoy a visit that is truly unforgettable.

Monterey Bay Aquarium & Cannery Row
One of the world's best aquariums is a "don't miss" for the whole family! Follow this with a tour of Monterey's Historic Cannery Row, where the once-bustling cannery's buildings have been updated and showcase an eclectic combination of specialty shops, art galleries and restaurants.
Monterey Movie Tours
See the scenic beauty and rich history of the Monterey Peninsula through the eyes of Hollywood in a tour that combines magnificent landscapes with blockbuster scenes from some 200 movies filmed across the Peninsula!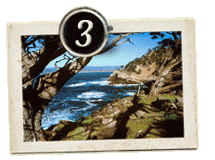 Take a scenic hike! Best Local Hiking Spots!
Lobos State Park: Easy to Moderate Located just three miles south off of HWY 1 "The greatest meeting of land and water in the world", famed landscape artist Francis McComa's bold but justified claim for the area. Be sure to allow yourself enough time to hike the entire loop from Whalers Cove to China Beach.
Garland Regional Park: Moderate to Strenuous Located 10 miles out off Carmel Valley road. Garland Regional Park has a variety of hiking trails with great views of Carmel Valley. It is Pet Friendly!!
Palo Carona Regional Park: Easy to Moderate Located three miles east of Carmel off Carmel Valley road. Park in the visitor center parking and visit the small museum before you head out on a short hike. Inspiration Point trail is the highlight of the park. After an 850 foot climb you will appreciate the views of the Carmel Coastline and Carmel valley!
Andrew Molera State Park: Easy to Moderate Located twenty-four miles south on Hwy 1. Another great meeting of rugged coastline and beach. There are a variety short trails connecting to the beach. Spend the day at the beach!
Garrapata State Park (Soberanese Canyon Trail: Moderate to Strenuous. Located 8.7 miles south off of Hwy 1. There are no parking sign. Look for the row of cars parked on the left side of Hwy 1. Easy hike into the redwoods. If you choose to do the complete hike clockwise or counterclockwise prepare yourself for a steep climb. It is well worth the climb once you reach the top as it boasts some stunning views of the Big Sur coastline!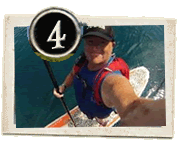 Water Sports
Catch a wave on a surfboard – check out Carmel beach – excellent surf for beginners as well as seasoned surfers. Or rent a stand up paddle board. Or simply go body surfing. It's all about sun, sand and ocean breezes!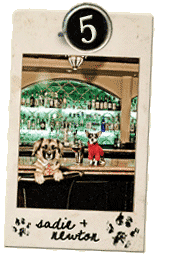 Let the day go to the dogs!
An afternoon run on Carmel's beautiful "leash-free" beach is sure to build up a thirst, to be quenched at "Yappy Hour" where you'll mingle with locals and visitors alike at Cypress Inn's pet-friendly "Terry's Lounge", co-owned by legendary screen star Doris Day. Mutt-tini, anyone?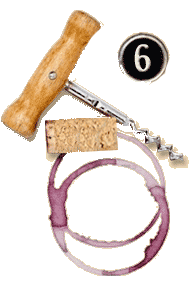 Wine Walk Carmel by-the-Sea
Leave the car in park and enjoy a superior wine-tasting experience on this self-paced, self-guided stroll to seven tasting rooms on the south side of Ocean Avenue. You'll sample local estate-grown still and sparkling wines, and corkage will be waived when a purchased bottle is opened at participating restaurants.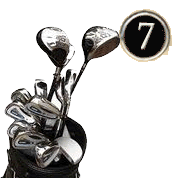 Golf
Shun the fog often found at coastal courses, and head a few minutes inland to Carmel Valley's Quail Lodge Golf Course, offering a championship playing experience with spectacular scenery and sunny skies. Cypress Inn guests receive exclusive discounts on green's fees. Inquire at the hotel.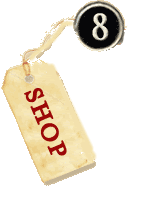 Shop 'til you drop!
Explore the chic boutiques, antiques and galleries in the European-style seaside village of Carmel by-the-Sea. Carmel shopping is metropolitan in style, yet wholly unique in setting. An all-day experience and then some, as you amble through the stone-paved alleyways and curlicue roofed shops.

Explore the rugged Central coastline with a drive to Big Sur
Lunch @ Nepenthe, located 800 feet above the pacific ocean. Then walk off a few of the calories on the followed by a walk on the purple sand at Pfeiffer St. Beach, featuring an 80-foot waterfall that drops from granite cliffs into the ocean from the Overlook Trail.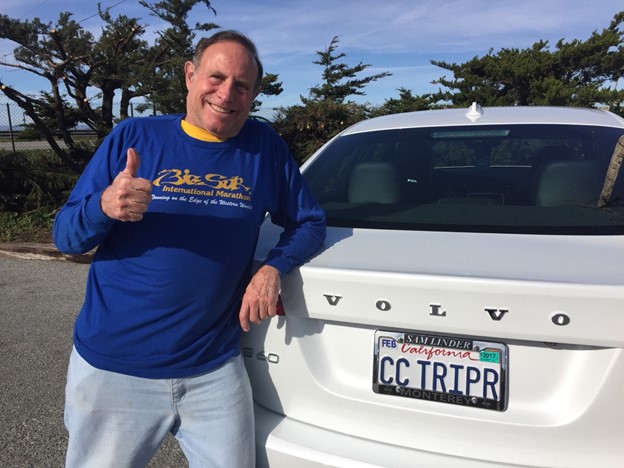 Dave Engelberg, is a certified California chauvinist, and has lived in Southern California, northern California, and now the central coast all his life. He started Big Sur tours and more in 2005 from a vision (the art of seeing the invisible) after Moving from Santa Monica While taking 25 trips back-and-forth to Monterey.
Now, 2000 tours later, Dave enjoys serving tourist more each year. Big Sur is like going back in time. People love the beauty but Don't know what they are seeing. Dave knows the Landscape, history, the five star turn outs, both on and off the beaten path. He will answer questions, Considers himself a people pleaser, and also a sit down comedian.
At last count there are 251 reviews, over 95% five stars. In three words his tours are spontaneous, conversational, and unscripted. This and more includes wine tasting in the Carmel Valley, trips north to Santa Cruz and San Francisco as well as Hearst castle and beyond, often connecting to Amtrak in San Luis Obispo.
Contact Info:
Recognized Tour Guide National Geographic
TCP #18995
Contact Info:
dave@bigsurtoursandmore.com
https://bigsurtoursandmore.com
Cell 831.241.2526 * 831.657.9442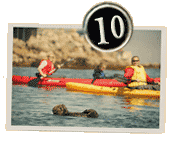 Adventures by the Sea Kayak Tour
Discover the kelp forest canopy of the Monterey Bay. Kayakers get an up close and personal look at this wonder of nature teeming with wildlife. You'll be greeted by harbor seals, diving pelicans or rafts of otters playing in the kelp, and get a new perspective of our beautiful coast line as you peer back at it from sea.
Guest Review
"Little, romantic and comfortable. The upper rooms have a nice peak-a-boo view of the ocean. Walking distance to the beach, restaurants and shops. Start a little fire in the wood burning fireplace and fall asleep to the sounds of the waves and a crackling fire."
– Bryan Helfrich, Google