Pet-Friendly Lodging in Carmel-by-the-Sea
Carmel's Lamp Lighter Inn, a pet-friendly Carmel Boutique Inn, is a wonderful place to stay as you travel with your pet to Carmel. Carmel is a pet-friendly town where dogs can run free on Carmel Beach, and walk on leash throughout the town.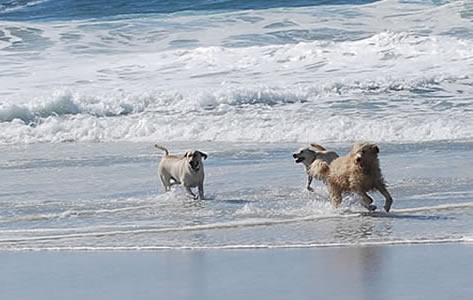 Doggie pick up bags and a spot to wash off your pet after a romp at the beach are located in the Courtyard at Lamp Lighter Inn.
When you make your reservation please notify us that your pet(s) will be joining you. Please note: There is a $30 pet fee per night for one pet, a $50 fee for 2 pets, or a $70 charge for three pets per night.
PET POLICIES
In order to guarantee the comfort of all our guests, the following rules must be observed:
Pets must not be left alone in the room at any time or under any circumstances.
While in the public areas of the Inn, pets must be on a lead or in a carrier at all times.
Pets are not allowed on the furniture in either the guest rooms or the public areas.
A pet blanket will be provided for your pet for in-room use.
Pets are to be walked off property. Please preserve the beauty of our gardens.
If you wish to go to dinner or to another activity without your pet, we kindly ask that you make arrangements for your pet to be supervised. There are local pet-sitting companies. One suggestion: Signature Paw Spa. Please contact them directly.
Please take our other guests into consideration. Should your pet become disruptive, please excuse yourselves and calm your pet, so everyone can have an enjoyable stay.
We look forward to welcoming you and your pets!
Guest Review
"Simply Wonderful. My wife and I stayed here for three nights in June to celebrate her birthday. We were pleased from the moment we arrived until the time we left. We stayed in the Concourse Suite, which is one of the larger rooms on the property. It had a spacious living space, outdoor patio and very comfortable bed. We loved the location (a couple blocks from Carmel Beach, and about 3 blocks from the shopping and restaurants in Carmel), and enjoyed the wine & cheese happy hour each day by the outdoor fire from 5pm to 6pm. The staff were wonderful as well. I would definitely recommend the Lamplighter Inn to anyone considering a trip to Carmel."
-MJB, Raleigh, North Carolina